Today, I would like to give a warm welcome to our newest blog sponsor:
A Mommy's Sweet Blog Design!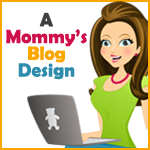 April is the designer behind
A Mommy's Sweet Blog Design
- she has always enjoyed creating and designing things from baby blankets to little girl tutus. Before she had children, a passion of hers was and still is computers... learning as much as she can about them including new software's. She was super ecstatic when she had the opportunity to learn how to design blogs- and now she is following that passion with
A Mommy's Sweet Blog Design!
A Mommy's Sweet Blog Designs
creates one of a kind (OOAK) mommy, girly, simple, and beautiful custom blogger designs.
They also offer ready to purchase premade designs starting at $30, free blogger templates, free buttons, and free tutorials to help spice up your blog.
The images below are from her portfolio- you can get another glimpse at her work right
here.
To keep up with what is new at Mommy's Sweet Things follow her on
twitter
!
p.s. April is also the founder and editor of
Review and Giveaway Blog Directory
. I will tell you a bit more about that website tomorrow, you will definitely want to check it out!